What's the Story?
Wrestling News World and Dave Meltzer of the Wrestling Observer report that Lesnar has been added to SmackDown Live Event on July 29, 2017, and will be defending his championship against Baron Corbin.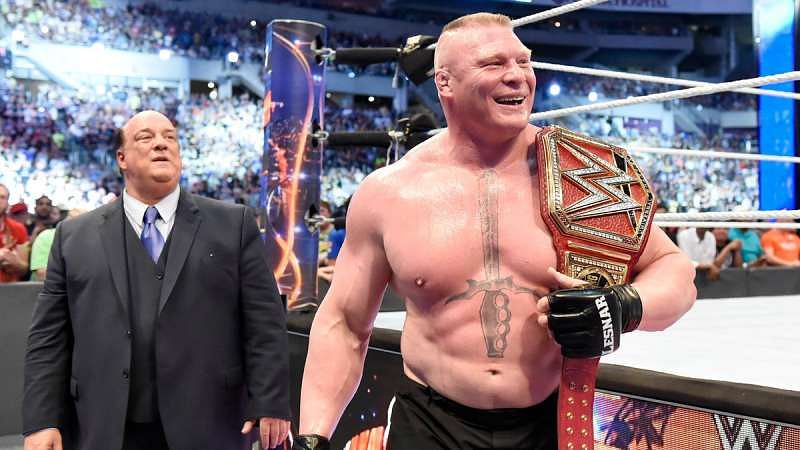 In case you didn't know….
Lesnar' match will most probably be the second time in as many weeks that a Raw superstar has appeared on a SmackDown show as Seth Rollins made a surprise appearance at SmackDown exclusive Live Event this past weekend and challenged Jinder Mahal for the WWE Championship.
John Cena is currently being advertised as a free agent and has already been booked for several Raw Live Events upon his return to WWE programming on the Fourth of July.
The Heart of the Matter
The Universal Championship match will take place on July 29th, 2017 and will be the final WWE event to emanate from the Joe Louis Arena in Detroit, Michigan. The following are the announced matches for the live event this Thursday:
Baron Corbin vs. Brock Lesnar(c) – (Universal Championship)

Randy Orton vs. Jinder Mahal (c) –  (WWE Championship)

AJ Styles vs. Kevin Owens (c) vs. Sami Zayn – (United States Championship)
Not only will be the first time the Universal Championship was defended at a SmackDown Live Event but will be the first time that Lesnar's been on SmackDown since his sneak attack on Randy Orton last year.
What's Next?
WWE seems to be increasing interaction between wrestlers of Raw and SmackDown in an attempt to boost attendance for house shows. If this trend continues, it may not be long before wrestlers other than Lesnar, Rollins, and Cena are added to SmackDown Live shows.