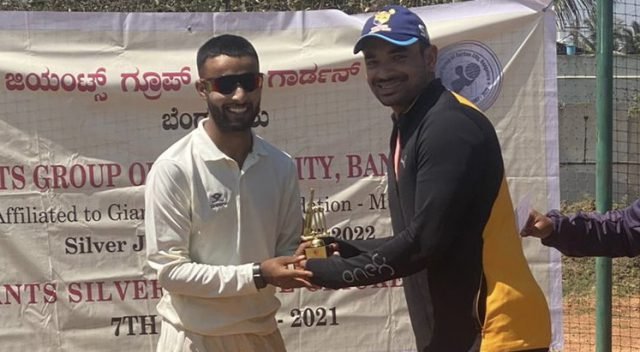 Bangalore, February 10: Kashmiri left-arm spinner Javid Ganai scalped as many as 9 wickets in two matches, helping RSCA Bangalore win in the ongoing Giants Silver Jubilee Cup at Bangalore.
In the first match, RSCA defeated Phoenix(Giants) in a nail-biter by 5 runs. Winning the toss, RSCA decided to set the target and managed to put up a score of 160/8 in 30 overs on board. Ashu top-scored with 33 runs to his name. Md Azharuddin and Suraj Kamath bagged 2 wickets each for Phoenix team.
In response, Phoenix(Giants) fought really hard but fell short of the target by just 5 runs (155/9 in 30 overs). Anirudh J was the top scorer with 46 runs while as Javid was the pick of the bowlers for RSCA Bangalore as he grabbed 4 wickets for his team.
In the second match, RSCA Bangalore continued the momentum from the last match as they registered another victory over EAGLES (Giants) by 32 runs.
Electing to bat first, RSCA once again managed to cross the 160 mark and set a target of 165 for EAGLES (164/8 in 30 overs). Ajay Kumawat was the main contributer with 39 runs to his name for RSCA. Deepak grabbed 3 wickets for EAGLES.
Chasing the target, EAGLES lost wickets at regular intervals as they eventually got bundled out on 132 runs in 27 overs. Premnath Jg was the top-scorer with 45 runs for them. For RSCA Javid was once again the wrecker-in-cheif as he grabbed a 5-wicket-hual for his team.
Javid was named player of the match in both the games.