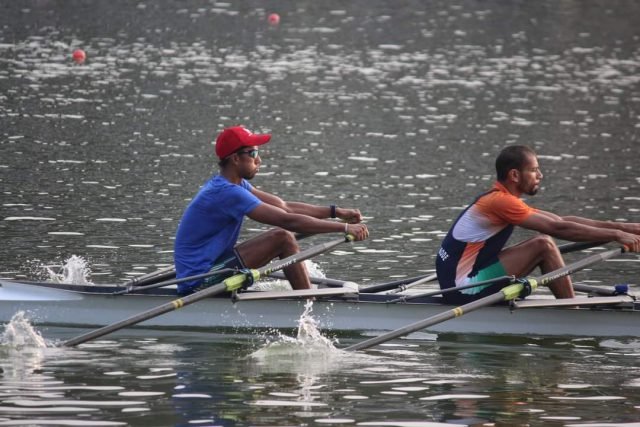 Srinagar, Febuary 7: Rowing Federation of India has granted the hosting rights to J&K for hosting Sub-Junior National Rowing Championship in Dal Lake , Srinagar.
It will be first time ever that National event of any level in the discipline of Rowing would be held in J&K. In a recently held tournament committee meeting by Rowing Federation of India , the hosting rights for the upcoming Sub-Junior Rowing National championship for boys and girls was confirmed to J&K. The event is going to be held in Dal Lake , Srinagar and it is going to witness participation of around 500 participants from more than 20 States from all over India. The event would be conducted by J&K Rowing and Sculling Association under the auspices of Rowing Federation of India.
Rowing is Olympic discipline of watersports and there is now World class facility established for the sport at Nehru Park Srinagar under J&K Sports Council. It is on the back of having World class facility and equipment that J&K was able to bag hosting rights.
"It is historic milestone in the history of Rowing sport in J&K. For the first time ever, J&K will be hosting National event in Rowing. Being Olympic discipline their is lot of competition amoung members for the hosting rights. However, with the active support from Federation we have been able to bag the rights," J&K Rowing Association official was quoted as saying.
The official said that in last two years, there has been major development in the Rowing sport in J&K.
"J&K lacked Rowing equipment and facility. However, during last two years massive infrastructure buildup has happened. We have now got top level Water Sport centre equiped with International standard rowing equipment," official said.

The J&K Association official further said that Rowing Federation is keen on to develop Rowing in J&K and have been working for that.
"Federation is keen on development of Rowing sport in J&K. After the arrival of latest equipment in Srinagar last year, the Federation sent two top level senior International Rowing players to Srinagar to inspect the equipment and train our players. Now they have granted the rights which will see youngsters from all over India coming here for participation," official said.
About the venue and date of the event, official said, " Getting hosting rights was first step and now we have to confirm the dates. It is going to be in June. As for as venue is concerned , we have got couple of decent patches in Dal Lake, one is near SKICC which would be used for the championship".
Official said that J&K players have started training for the event and host team would be strong contenders for the medals.