Lewis Hamilton delivered exactly what an ecstatic home crowd had demanded with a masterclass at the British Grand Prix, leading from pole to flag, untroubled out front by his rivals. Late drama for Ferrari when they endured punctures at the death cost the Scuderia hugely. Ferrari's Kimi Raikkonen was in third and Hamilton's title rival Sebastian Vettel could manage only seventh after his tyre disintegrated on the penultimate lap. Hamilton's team‑mate Valtteri Bottas put in a very strong run to come from ninth on the grid to second. Crucially Hamilton has now closed the deficit to Vettel in the Formula One world championship to just one point – a 19-point swing.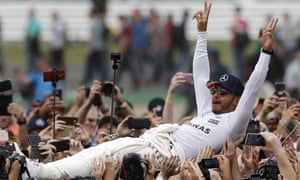 Having already matched Jim Clark's record of five poles at the British Grand Prix, Hamilton has now also equalled Clark and Alain Prost's record of five wins at the race. His qualifying lap was half a second quicker than both the Ferraris, the largest advantage in the single lap discipline any driver has enjoyed this season and they proved unable to match him on the Sunday.
His mastery of Silverstone in the Mercedes of the turbo-hybrid era is now unmatched. This is his fourth consecutive British Grand Prix win, again matching Clark's record and he has converted pole position to victory in the last three races here. "Fantastic job all weekend guys," he said. "So happy for everyone."
It is the three-time world champion's fourth win of the season, putting him one ahead of Vettel. His 57th career victory has narrowed the gap in the drivers' championship standings to almost nothing and after difficult races at Baku and Austria he has come back with a dominant performance that is an absolute statement of intent.