Has Virat Kohli lost trust in R Ashwin, the ODI bowler? Ever since the 2015 World Cup in Australia and New Zealand— where he was a star performer — Ashwin has found it difficult to hold a spot. Figures could be thrown to suggest he hasn't simply cut it, but it seems to be a chicken-or-egg situation. Has the lack of consistent opportunities upset his confidence, the most significant trait of his personality? It's a baffling situation as a spinner treated as a matchwinner in Tests finds himself an outcast in the limited-overs formats, and seems to be retreating further into the shadows.
If anyone needed to play all the five matches in this bilateral series against West Indies, it was Ashwin. However, he was dropped for the fourth game of the ODI series, after he had figures of 3/28 in the previous match. Not that it would have been a new experience to him. Was he hurt by the exclusion?
"My professional ego was hurt." That was Ashwin on Star Sports in conversation with Ravi Shastri and VVS Laxman on being left out for India's first two Champions Trophy matches – against Pakistan and Sri Lanka. This was before he bowled a good spell, that included the wicket of the in-form Hashim Amla, to ensure India made the play-offs.
Ashwin's moved countries, continents in fact, since that comment but it's unlikely that the "pain" would have gone away. On Friday in Antigua, he was at his best and ended up with figures of 3/28. On Sunday, he was replaced by Ravindra Jadeja. That's pretty much been the theme of Ashwin's ODI career over the last couple of years.
Ironically, the last time Ashwin had a good run in this format was the 2015 World Cup where he picked up 13 wickets at 25.38 and was instrumental in India making the semi-finals. Ever since though, captains have changed, coaches have changed but they've continued to drop Ashwin, often without any discernible reason. To the extent that he's become the likeliest player to get the axe, whenever the team's looking to change their bowling combination or when they want to give everyone a go in the series. Often, it's been regardless of what he's done in the previous match.
Kohli is just following the process started by his predecessor MS Dhoni. Just recall how Dhoni had justified leaving Ashwin out during the one-day series in Australia a year-and-a-half ago, especially at a time the off-spinner was on a roll, having humbled a strong South African batting line-up on home soil.
"If you see how they had played Ashwin so far in the tournament, I thought he bowled well in the last game but it was the only slot available for trade. Because we couldn't have dropped Jadeja and played with Gurkeerat and Rishi Dhawan because that makes the batting slightly difficult."
Kohli, meanwhile, has done the same now. This, despite often going on record to rave about the world-class abilities of Ashwin as a spinner.
"He was the first guy who told me that I have no problems with the kind of combinations you're going in with," Kohli had said about Ashwin's exclusion against Pakistan in Birmingham. This was a week before Ashwin spoke about being "professionally hurt".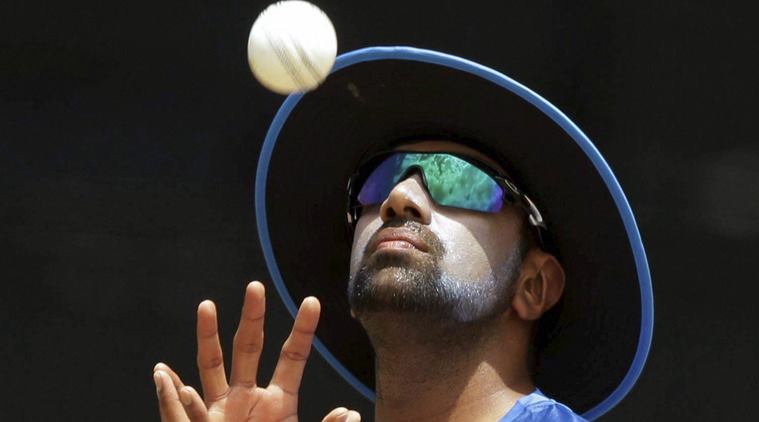 Somehow this clear lack of confidence or continued trust in Ashwin, the ODI bowler, from the team has understandably had an effect on Ashwin's belief. (Source: AP)
Somehow this clear lack of confidence or continued trust in Ashwin, the ODI bowler, from the team has understandably had an effect on Ashwin's belief. It was best described by spin legend Shane Warne during the Champions Trophy final against Pakistan, where Ashwin finished with figures of 0/70. Kohli had a slip in place for his lead spinner when he brought him on in the eighth over of Pakistan's innings. "The captain and his bowler don't seem to be in sync. Kohli has a slip and clearly wants Ashwin to attack but he seems keen on cutting off the runs," Warne had said on commentary.
So what exactly is the message the team management is trying to send to Ashwin? At this moment, it seems too jumbled. In England, Jadeja was picked ahead of him, which perhaps meant he was now being looked at as the No.1 spinner. In the first three ODIs in the Caribbean, however, it was Ashwin who got the nod ahead of Jadeja. And now there's Kuldeep Yadav in the mix, and the chinaman bowler has so far looked unplayable thanks to the ineptitude of the West Indies batsmen. So where does this leave Ashwin? As of now, on the bench with a confused mind.
A spinner who constantly experiments to evolve as an international bowler needs uninterrupted match time. On Friday, he seemed to be in fine rhythm. He was showcasing a new quirk in his bowling action. The change was basically in his load-up — to put it plainly he was indulging in the snake-charming routine with his hands closer to his chest rather than above his shoulders like he usually does — and it seemed to set him up perfectly while bowling both his off-breaks and leg-breaks, which he uses a lot these days.
He seemed to have the opposition batsmen completely befuddled and at his mercy, something which has become commonplace for him in Tests. The altered load-up is something he's been working on since England and has been bowling lengthy spells during every one of India's net sessions over the last month-and-a-half. He ideally could have used it in England itself, but the lack of clarity in his head over his place in the side perhaps didn't allow him the freedom to do so. And like in the final, he seemed a shadow of himself, using defence-minded angles and defensive lengths.
That he was dropped right after his best ODI performance in nearly two years, is likely to leave Ashwin in only more of a quandary over his ODI future.
Ashwin's averaged 47.30 for his 13 wickets in 12 matches since the 2015 World Cup and has dropped from No.8 to No.30 in the ICC bowlers' rankings for ODIs since the 2013 Champions Trophy. And while there are quite a few in this squad who could have done with sitting out this series in the Caribbean, Ashwin probably needs to play every possible match here for his own confidence. A few cheap or slightly easier wickets — owing to the vivid lack of calibre in the West Indian batting ranks — wouldn't hurt him. It is exactly what he needs. He seemed to be regaining his customary bluster with the ball as the series was going on before being duly dropped on Sunday. And it would be surprising, if that "professional ego" isn't hurting even more now.