Pakistan stunned title favourites and hosts England by eight wickets to enter their maiden Champions Trophy final on Wednesday as they continued their sensational run in the tournament.
Pakistani bowlers produced another professional performance to restrict the formidable England batting line-up to 211 after skipper Sarfraz Ahmed opted to bowl on a used surface. The star with the ball was once again pacer Hasan Ali, who ended up with a three wicket-haul for the third time in as many games.
Pakistan pacer Wahab Riaz who is missing out on his team's dream run in the ODI tournament due to injury has to deal with another ignominy.
Well, fitness is not the only thing he has to deal with. After all, the left-arm pacer was put on sale on the e-commerce website eBay recently.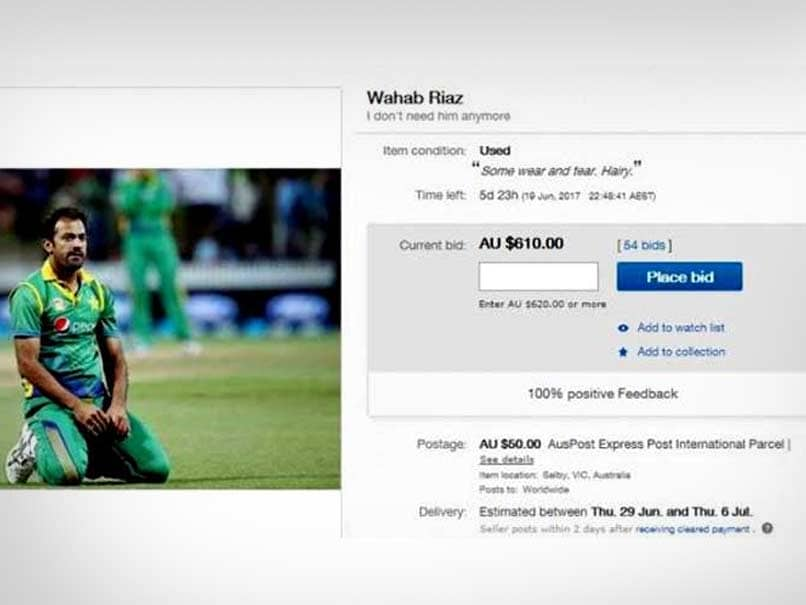 eBay has removed Riaz from sale, but before he was taken off the shelf, so to speak, the Pakistani pacer did receive over 50 bids, with one user even bidding as much as 610 Australian dollars. The website may have removed the 'product', but not before screenshots were taken andcirculated on social media.
The seller described him as "used" before adding "Some wear and tear. Hairy". The seller said Riaz "would make a good paper weight or garden gnome".
The Australian seller – mrdenn1s – claims he "bought Wahab in 2008 hoping he could win matches for Pakistan". Wahab made his international debut that year. While descring the 'product', the user adds that "he can intimidate Shane Watson but can't get them out". This is in reference to Wahab's fiery spell vs Watson in the 2015 World Cup quarterfinals wher he couldn't get him out.
And the reason for selling him?
The user says that he was "selling it as I have upgraded to the Junaid Khan model". And Junaid was the one who replaced Wahab in the playing XI against South Africa in the ongoing tournament and made an impact.
Wahab suffered a tournament-ending ankle injury during Pakistan's crushing 124-run defeat by title-holders India in their opening match at Edgbaston last Sunday. It was a miserable match for Wahab, who was first flayed for a hugely expensive 87 runs in 8.4 overs, and then it ended in more misery as he fell in his delivery stride and sustained an injury that saw him leave the field. It also meant he was unable to bat as Pakistan, chasing a revised target of 289 in 41 overs in a rain-affected match, slumped to 164 for nine after India had piled up 319 for three.